MySuper
Lifecycle superannuation products
Section: 3.9
3.9 Lifecycle superannuation products
In a MySuper account, you may have a balanced, single diversified option. This means your funds are invested in a standard mix of investments, with a consistent approach.
Alternatively, there is the lifecycle investment strategy. With this option, your funds are adjusted from growth investments when you're young to more conservative investments as you get older. Lifecycle investment products manage investment risk based on your age and expected time to retirement. They are commonly offered by retail superannuation funds as part of MySuper products.
The strategy of a lifecycle product is characterized by gradually shifting from a higher exposure to growth assets when you're young to a higher proportion of defensive assets as you approach retirement. For example, a member under 40 may have an average exposure of around 82% to growth assets, decreasing to about 63% in their 50s. By age 65, the average lifecycle MySuper product has approximately 45% of its portfolio invested in growth assets.
Example of lifestyle asset allocations by age cohort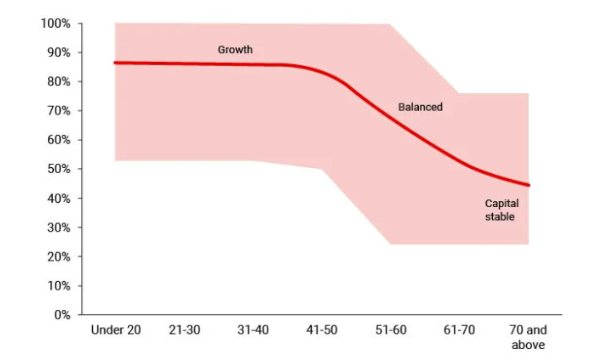 Source: APRA, Rainmaker
This technical resource is intended for the use of financial advisers only. It is current as at the date of publication but may be subject to change. This publication has been prepared without taking into account a potential investor's objectives, financial situation, needs or objectives. Before making a recommendation based on this material, you should consider its appropriateness based on the client's objectives, financial situation and needs. Rainmaker Group is not a registered tax agent under the Tax Agent Services Act 2009. Your client should refer to a registered tax agent before relying on information published herein that may impact their tax obligations, liabilities or entitlements.
Last modified: Wednesday, June 28, 2023